My Top Tickets - Our Services
My Top Tickets is an Irish Company. We provide online ticket-booking solutions to event organisers, visitor attractions, venues, businesses, organisations, communities, and charities.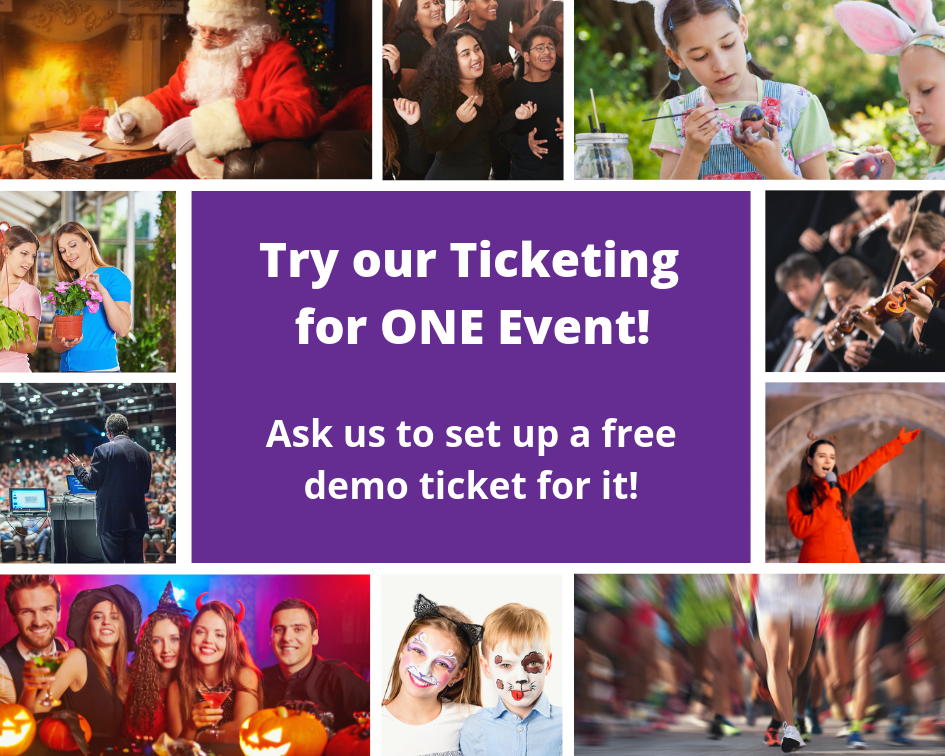 Whatever your ticketing needs we can have you set up and ready to sell your own-brand tickets, typically within 60 minutes. Plus, if you regularly stage events we can provide you with your own-brand platform that only features your tickets and events.
Our set-up services are generally free. We derive our income through bookings. Whenever you sell a ticket, we charge a small fee to cover our services. You can decide whether to absorb this fee within the ticket price or to pass it on to your customers.
Our Boast – 'We do it all, so you don't have to'
In addition to matching or bettering the ticketing services others provide, a significant difference is our boast that 'we do it all, so you don't have to'. It's not a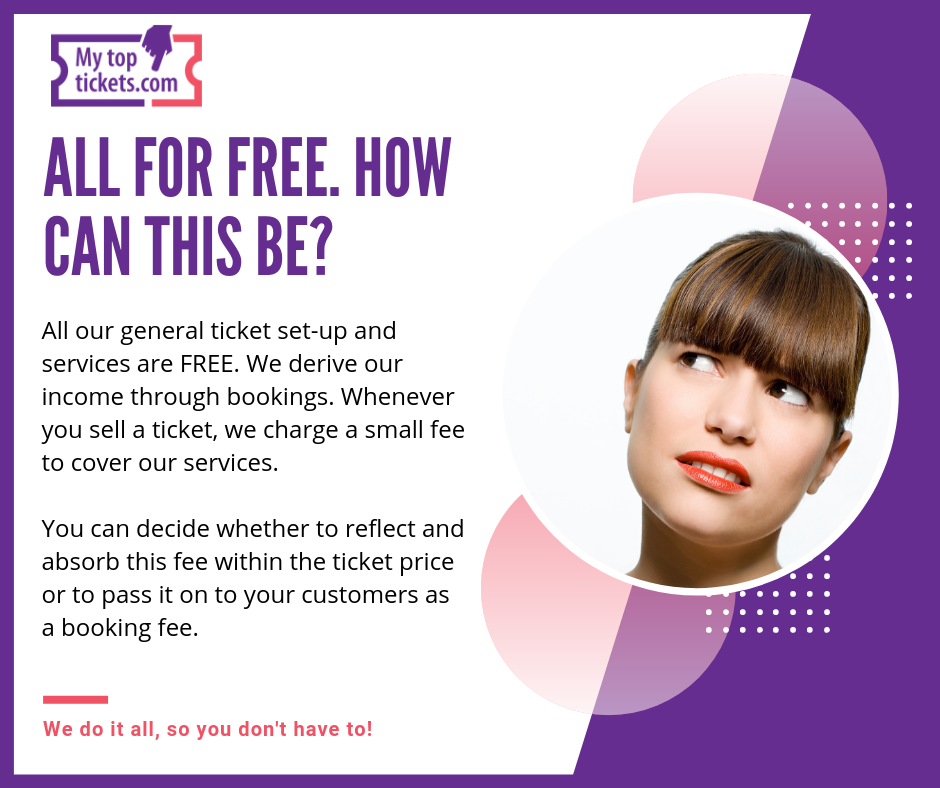 slogan!

Some ticketing companies require you to invest in their ticketing system - we don't. Some ticketing companies require you to enter into time-related contracts - we don't. Most companies require YOU to do all the ticket set-ups on their systems - again, we don't. Instead, we work WITH YOU to set up your tickets and manage the online bookings from the set-up through to the time you are paid.

We are also told we are very easy to work with (ask any of our clients - they say so!).
Our Process - from zero to tickets sales in 60 minutes, then the customer journeys begin.

Here's what typically happens:
You contact us and tell us about your ticketing requirements: We will advise you how we propose setting up your tickets, what's involved, and what we will need from you. We then provide you with a link to an online form. This form, which you complete, gives us the information we need about your event or attraction, including your business or event organiser details.

We set up your event or day-admission ticketing solution in accordance with your wishes - from simple ticketing for single-date events to more complex time-slot and calendar ticketing. We also set up all the admission types and prices, and the attendance capacity controls by dates and timeslots, as appropriate. We can also brand your tickets and the booking journey, featuring your logo, brand colours and messaging.

We work with you to get your tickets online. If you have your own website or social media platforms and are going to profile your event or attraction admissions there, we will provide you with a unique link to your tickets to place on your platforms. Once you use this link, it provides a seamless booking journey for your customers. If you don't have your own platforms, we can profile your event on BookEventsIreland.com or one of our other consumer websites.

You are now ready to sell. Within 60 minutes of providing your event or visitor admission details, and once you have checked and signed-off that all is in order, you are ready to actively sell your tickets.

Your customer books online. You actively promote your tickets, highlighting where they can be booked online. Your customers can book on any online platform that uses the ticket link we provide you with. This may be via your website, Facebook or other social media platform, a third-party platform and/or our consumer websites. It's a simple, secure and proven process.

Instant tickets. Once your customer books and pays, the tickets are instantly released online. The tickets are PDFs, readable on all devices, and can be instantly downloaded by your customer from the booking confirmation screen. The tickets are also automatically issued to the customer by email.

Your customer pays securely online. We use Stripe as our payment processor. Stripe is a world leader in secure payment processing and is used by millions of businesses around the world from Amazon and Booking.com to UNICEF and Oxfam. Stripe is certified to PCI Level 1, the highest level of certification available. Using Stripe enables us to securely process bookings from customers using any major credit and debit card.

Tracking bookings. If you have a client account with us you can track your bookings online in real-time. Or, we can provide you with frequent booking updates.

Customer queries and refunds. If the customer has a query in relation to your attraction, activity, or event, they are directed to your point of contact (which features on the ticket). If the query specifically relates to the purchase payment, they are directed to us. We can also manage and refund payments to a customer's account in line with the agreed policy.

The customer will arrive at your attraction, activity, or event, with their ticket. The ticket may be printed off and presented or else shown on their mobile device as an eTicket (in accordance with your policy). Our tickets carry the name of the booker, the composition of the party (e.g. two adults) and the ticket price. It also carries a unique ticket number and a QR code that can be checked.

Checking the validity of the ticket. Our tickets can be checked online or on any mobile device using a downloadable QR Code Reader App. They can also be invalided using the app, so they cannot be presented again. In the case of events, you will also have a list of attendees you can check against - which can be sorted by 'name on ticket' or ticket numbers for ease of checking. Our tickets can also be checked using handheld scanners.

We pay by bank transfer directly to your account. In the case of events, we pay within 48 hours of an event's completion. For attractions and activities, we pay monthly directly to your account. We also provide itemised payment reports with the attendance listings and the individual amounts paid - matching the overall revenue transferred to you.
Do you organise or stage Multi-Events?

If you do, you should talk to us. We can offer a unique platform (to your branding) that can showcase your events and facilitate online bookings.
Need more Information?

* How we can support different types of businesses, including yours. Check it out here.
* Check out our FAQ's here - and if the answer is not there, contact us.
* Contact us for more information.